It's all about the house …
Well as this is an interiors blog, it seems only right that my second blog post focuses on the house.
A mini house tour.
We have lived here for two years and for me, it was love from the moment I saw the listing on Rightmove. We had always planned that our first home would be an older property that needed completely renovating, but this house … a 10-year-old, three storey town house … stole my heart. It had the ideal layout, was neutrally decorated and had a south facing garden. The only problem, it was already sold. After months of searching only to find that nothing quite matched up to the 'dream house' our luck changed. It was re-listed on the agent's website! To be honest I nearly put an offer in there and then, but, Fletch insisted we look round first. So we booked a viewing, my love was confirmed and we moved in just 8 weeks later.
I should probably start with an exterior photo, but, you know, burglars. So we'll just skip that and focus on the entrance hallway. Ah, its not decorated, in fact it's shameful. I can't put photographic evidence of it online. Soz. So, third area lucky, the open plan kitchen / dining / living area. That's more like it … three in one.
Ground floor | Open Plan Living
This was what sold the house to me. I love that the ground floor is open plan, we spend so much time in this space, Fletch can be cooking my dinner while I lounge on the sofa cuddling Stanley. It's ideal, we're together but with the space to do our own thing.
The kitchen was the first room we decorated, we were hosting Christmas that year for the very first time and I wanted everything to be perfect. Both Fletch and I love to reuse where possible, so we gave the existing kitchen a makeover. The cupboards where in good condition so we had the doors sprayed a new colour and reconfigured the layout slightly. New tiles and worktop transformed the space. I was nervous that it would feel like a compromise and that we would regret not starting from scratch but we both really love the before and after story and it feels like more of an achievement. We finished the work just days before Christmas, I put the tree up on the morning of the 23rd, just in time for the first Christmas party we hosted that afternoon/evening!
The dining area features my grandparents dining table. I love that its been in the family for years, growing up we all use to congregate around the table and it's the same now in our home. This space really is the heart of the house. It is also where you will normally find Stanley, either curled up on the sofa (which he has claimed as a giant dog bed – eye roll) or waiting hopefully in the kitchen / by the dining table for a little treat. He ALWAYS gets one.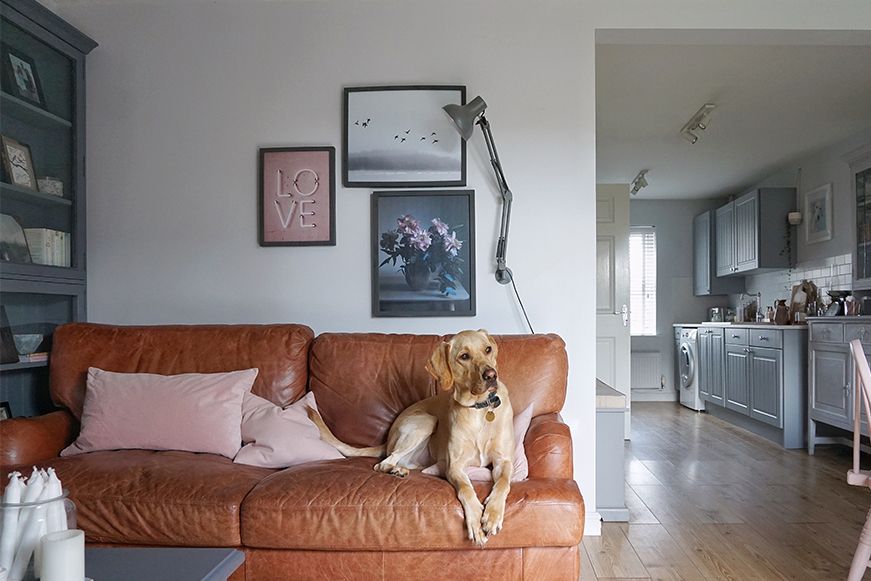 Ground floor | Cloakroom
The most recent room that Fletch and I decorated … I wanted to have a little fun with the cloakroom so picked sulking room pink by Farrow and Ball for the walls and a navy blue hexagon for the floor. Obviously I regretted this as soon as we started tiling the floor, having not tiled before the hexagon was a bit ambitious! But we did it – it took hours – and we're still married. We can laugh about it now.
First floor | Living Room
As the little snug area to the kitchen is light and bright, looking out onto the garden, we are drawn to it during the spring/summer months. So we wanted this room to be a complete contrast … A cosy warm retreat for spending the Autumn/winter months in, its perfect for snuggling up and watching films. To be honest, it's probably my favourite room in the house. We picked a dark colour for the walls and painted the skirting to match.
I really wanted a wall of bookcases but was worried our budget wouldn't stretch to bespoke. I can't tell you how happy I was when I discovered that the Billy bookcases by ikea where the perfect size … literally millimetre perfect for the space! The room is not very wide and so initially it felt long and thin, the bookcases bring the sofa forward and help with the proportions of the room – plus the glass doors mean I don't need to dust them too frequently!
We accessorised the room with soft golds and added lots of chunky throws with velvet cushions. The curtains are wool and have cute little leather tabs with gold studs. I love all the little details like this, it makes it extra special. I guess this room has slowly evolved, we tend to collect things as we see them rather than specifically looking for them, I think ultimately it creates a real home with real memories.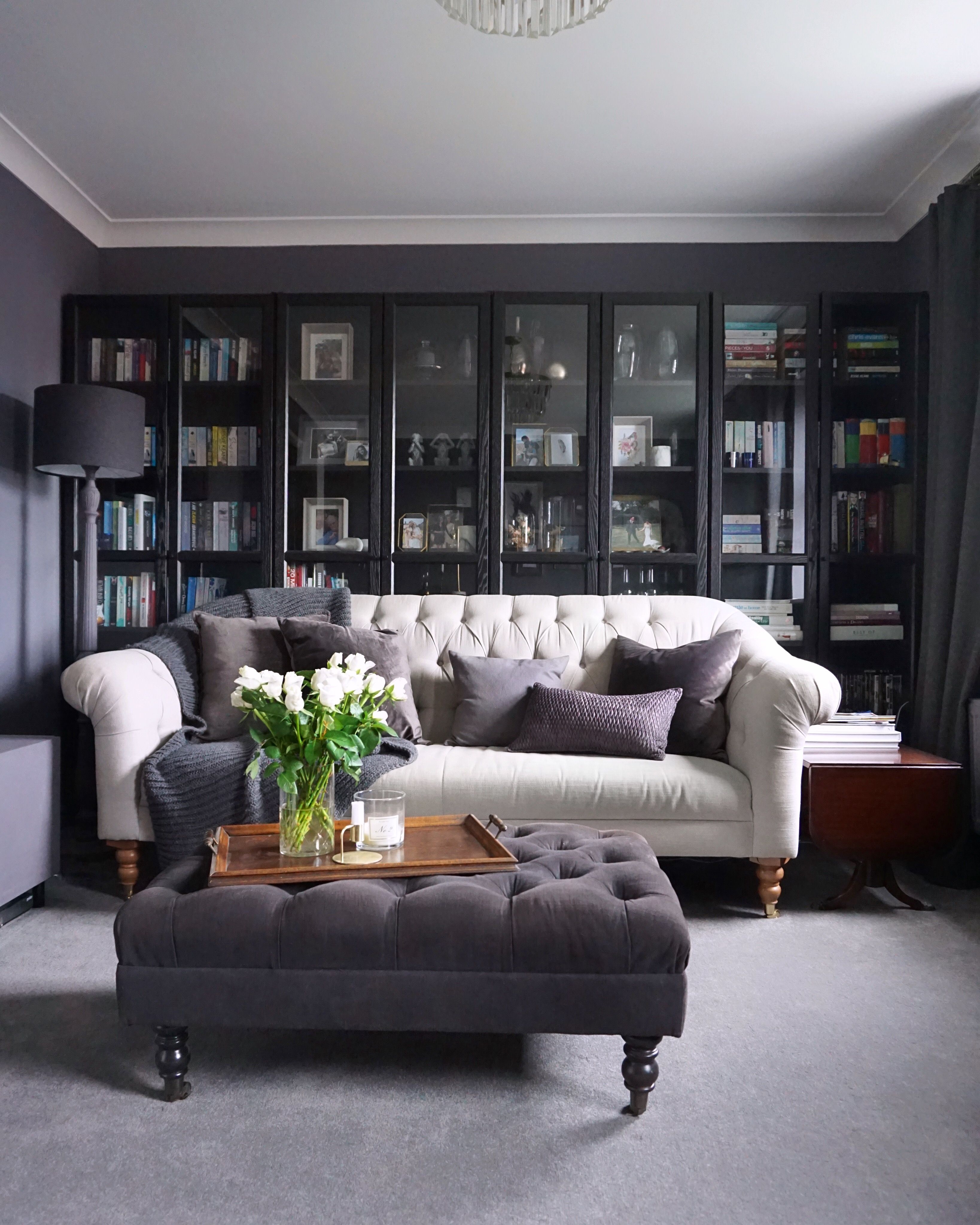 There is just one thing left to sort in this room … The TV. The location of the TV has always been an issue, we have tried every furniture layout possible and there has always been a compromise. But I think, finally, we have cracked it … watch this space as we're soon to be implementing a little idea that should make film nights EPIC. I literally can not wait!!
First floor | Master bedroom
It had to be dark. We have both always loved dark rooms and after the living room, feeling more brave, we knew we wanted to add more dark colours into the house. The bedroom seemed like the perfect room as we both find darker colours inviting and relaxing. A little sanctuary. I've never been a fan of having a 'statement' wall but I fell in love with this floral wall mural and so it HAD to be incorporated. Having it on the wall behind the bed creates a bold statement without it being too overpowering on the room. It is a little marmite but I just love it.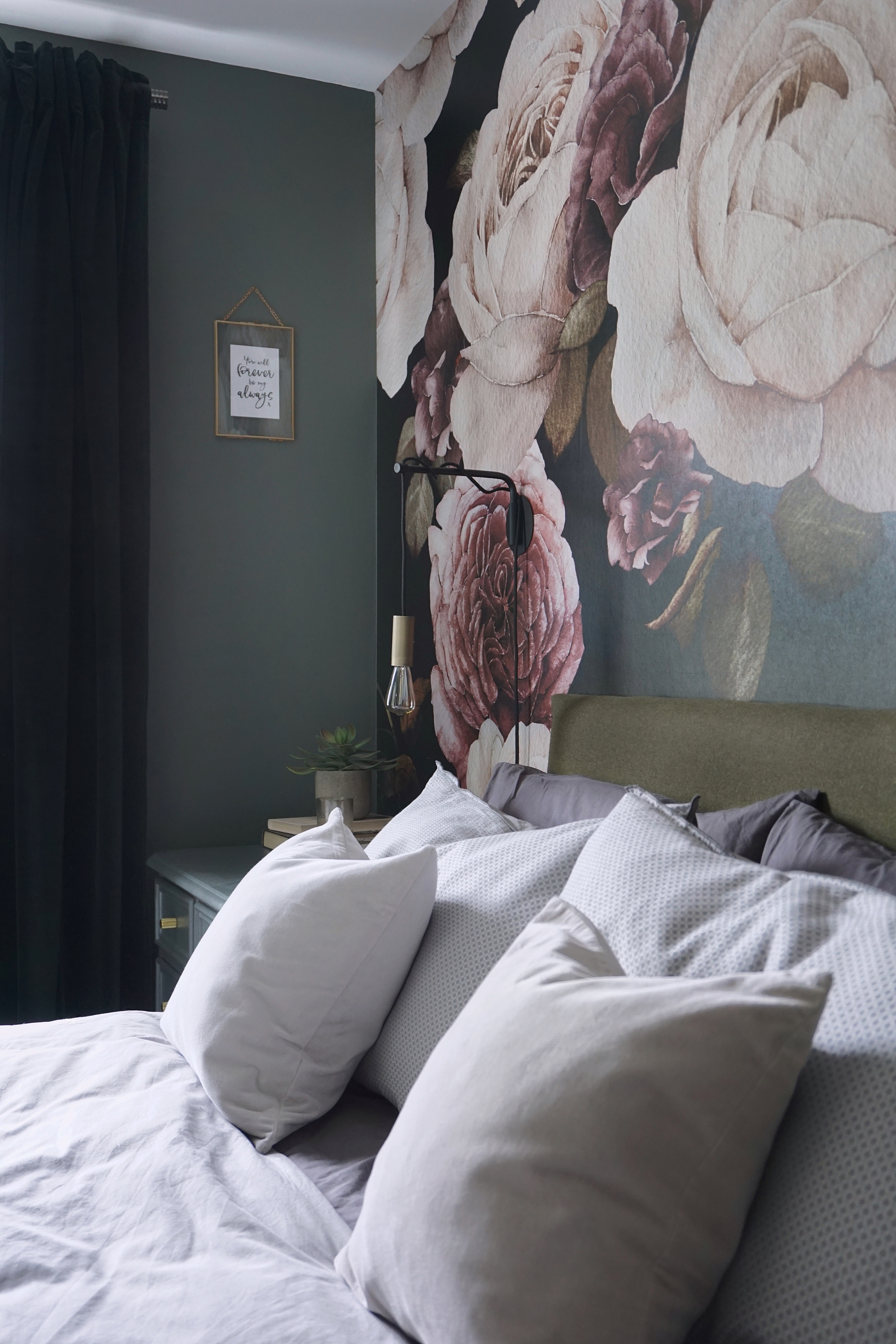 I wanted the bedroom to feel really luxurious, almost boutique, so I selected dark velvet curtains and styled the bed with plump inviting cushions. With the exception of the wallpaper, we used our existing furniture. I reupholstered the bed and made a headboard … (for the first time in 8 years we have a headboard! It feels so swish!!) A lick of paint transformed our side tables, we had bought them second hand and always looked tatty but now painted I think they add a vintage charm to the room. The biggest transformation was definitely the wardrobes. They came with the house and were awful – we absolutely hated them – to be honest, we almost ripped them out but they were practical and the perfect size for the space. So out came the paint again! We decided to use the same paint as the walls (literally the same paint – its emulsion!! A massive NO-NO but, touch wood, it's been absolutely fine. Proof of how important the prep work is!) Painting them to match the wall colour meant that they disappeared and allowed the bed and wallpaper to remain the feature of the room. We were kindly sent gorgeous handles from Dowsing and Reynolds which added the finishing touch.
The Ensuite is a room on the list to complete. No photos allowed! It needs a complete re-decoration and so is definitely a job for the future (maybe next year?) Everything needs to go, it will be our first room where everything is replaced which is rather exciting! Of course we'll be adding in vintage touches, I would love to create a vanity unit for the sink out of an old piece of furniture. The ultimate dream would be marble tiles with gold brassware and dark walls to match the bedroom. Ekk £££ better make that a few years time!!
Second Floor | Study
Is it really any surprise that my little home office is painted pink?! Mirage II by the little green paint company to be precise. As the one room in the house used solely by me, there was absolutely no way I was not creating a pink haven. Yes the bookcase is pink, yes the curtains are pink and yes it is always full of fresh flowers. It makes me happy and adding a little happiness to the working hours of the day can only be a good thing right?
I needed lots of storage so picked a modular bookcase system from B&Q. A decision definitely influenced by a lack of time and budget but, now painted to match the walls, I think we get away with it! The wooden crates are from my dads greengrocers and I couldn't resist the gold baskets from H&M, I think together it creates a vintage lux charm.
Second Floor | Guest bedroom
I haven't told Fletch yet but this room needs a bit more work. It's nearly there, the walls are painted (with a band detail which we love) and we've got the furniture … well, we have furniture … but … the wardrobe really needs a make over or replacing. We've had it for years, it's moved house with us three times and is generally a little battered and worn. I have started brainstorming some little makeover ideas so this might be my next DIY project.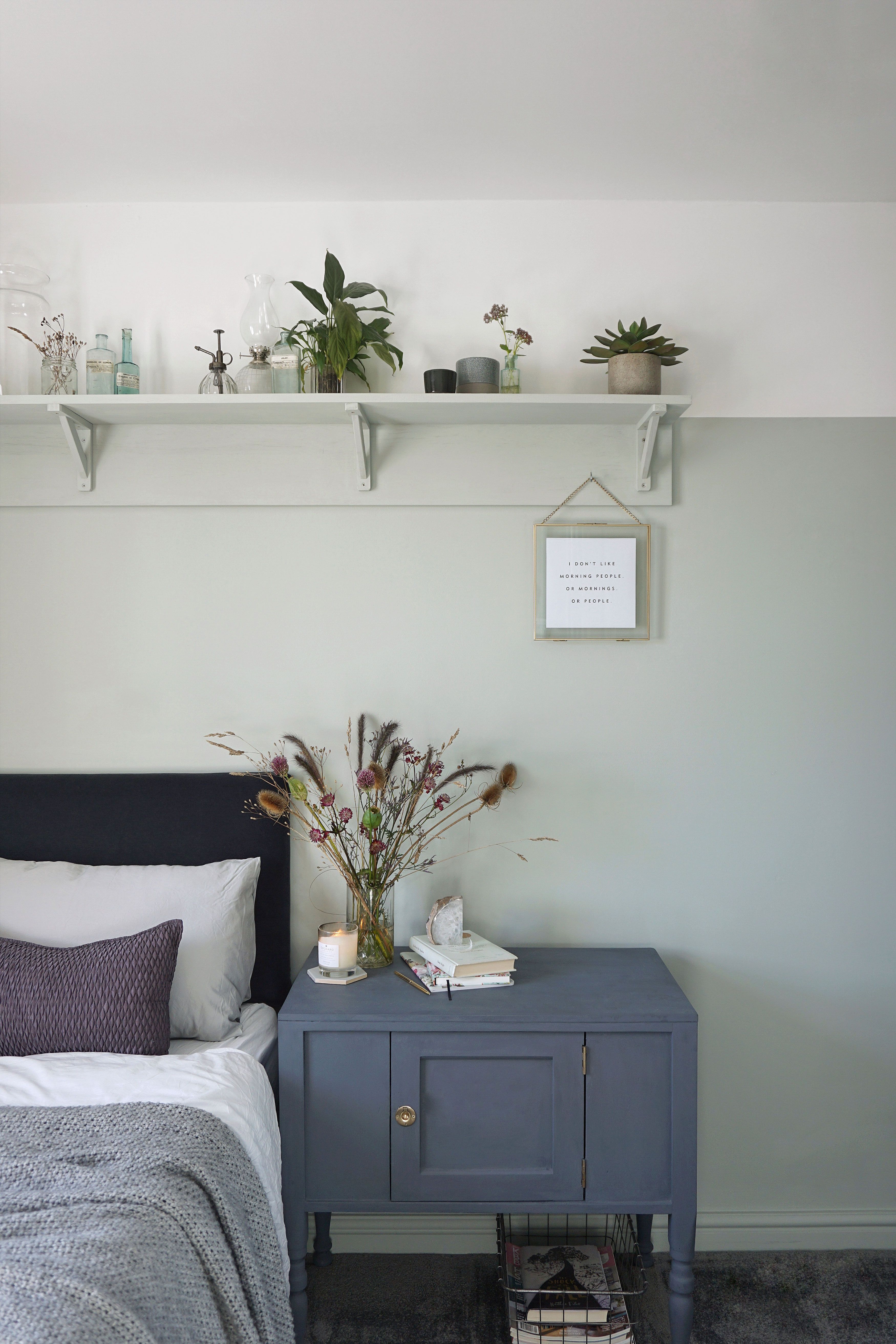 The walls are painted a pale green colour, which is strangely called light blue by farrow and ball. It's a lovely relaxing colour that works well with the Navy blue accent. I love the plant shelf and am constantly faffing about with the styling … it must change weekly, at the moment I am obsessed with the vintage glass bottles. No room would be complete without a second hand find and this side table was purchased via the vintage market place on Etsy. Obviously I painted it. I paint everything. (wardrobe, I'm coming for you!!)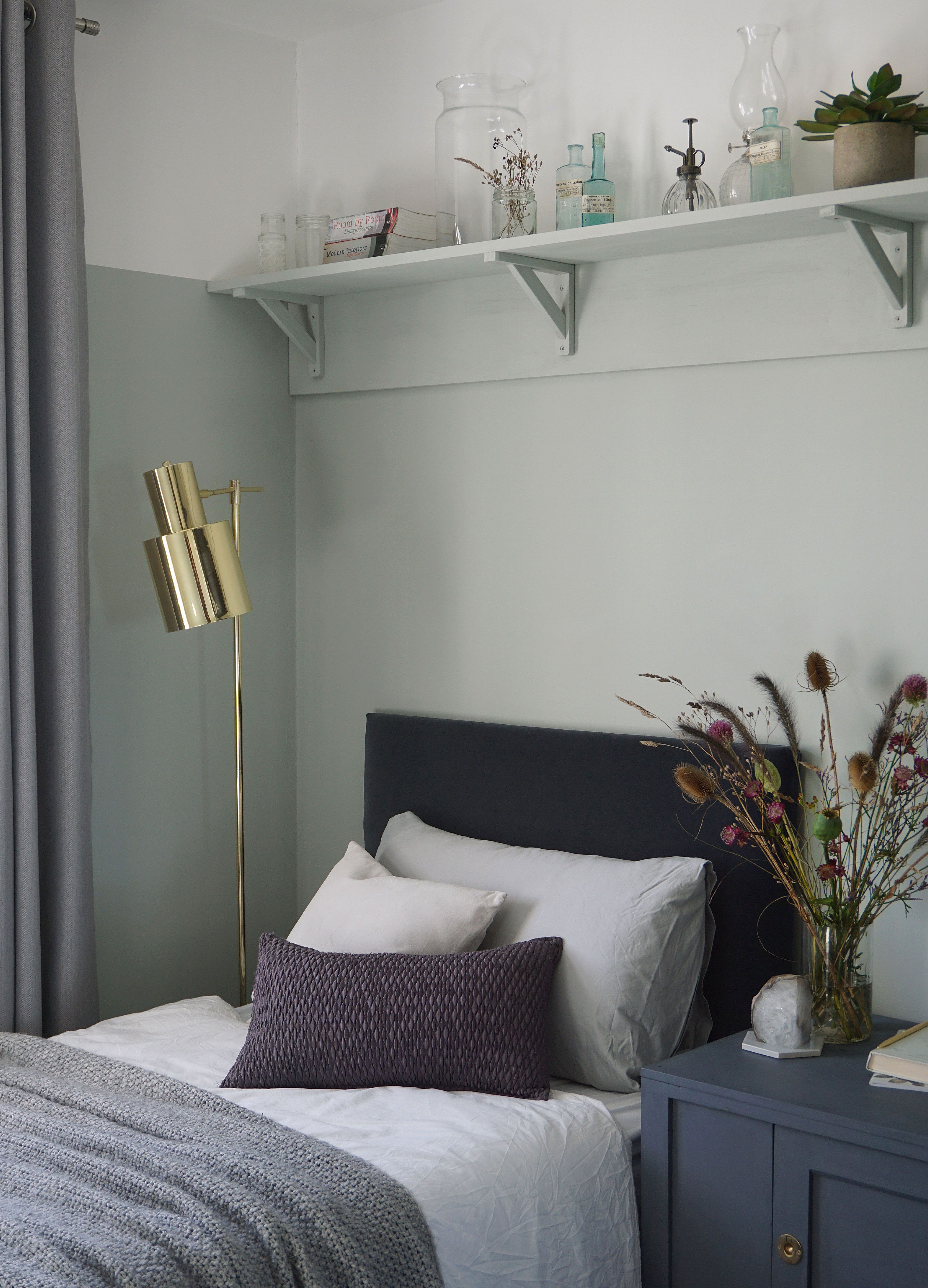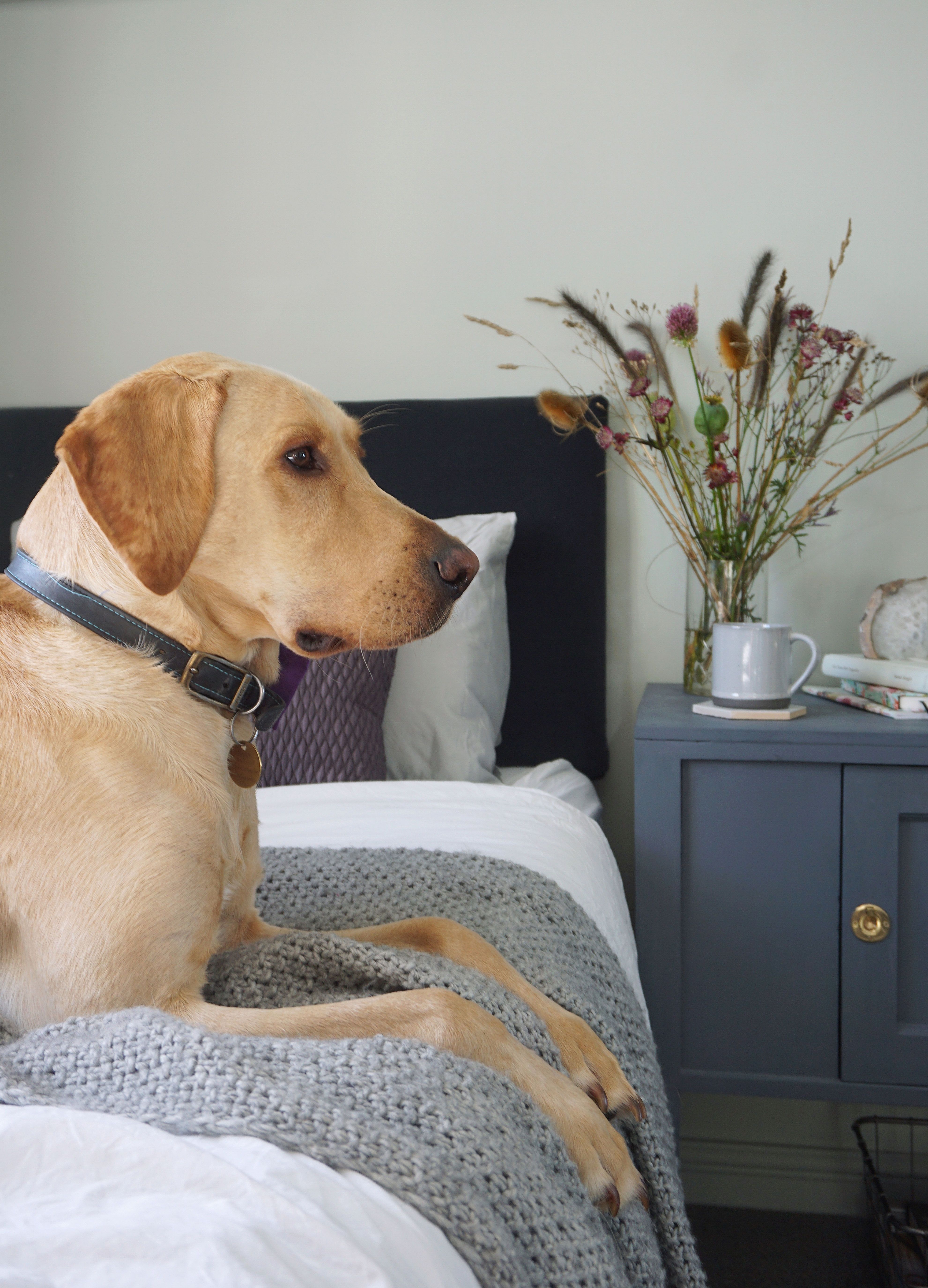 Second Floor | Spare room & Bathroom
The final rooms of the house. The spare room is really a box room, it has not been decorated and its purpose is to look after all the random junk we need but don't want in the rest of the house. I guess its like a very big storage cupboard. I highly recommend for every house to have one!
Lastly, the bathroom. In an ideal world we would strip the bathroom and start again but I just don't think budget will allow, the max we can do is a revamp … But the bath and fittings really need to be replaced (the bath is currently covered in rainbow colours thanks to, I assume, the previous homeowners children – no amount of cleaning has removed them) and the sink tap. But then I'd be tempted to replace the sink and, well if the bath and sink are going, it would be rude not to change the toilet? … and just like that the revamp has escalated to the entire bathroom being changed. Which is exactly why the room is being ignored. For now.
The Garden
Well I can't do a house tour without including the garden! Especially since we've recently given it a makeover and turned it from a mud pit into, well an actual useable garden. Our soil is clay soil and the tiniest bit of rain basically turned the garden into a swamp, the lawn was non existent so earlier this year we bit the bullet and had artificial grass laid. Not my first choice but what a difference it has made, worth every single penny.
Yes it has a pink planter – seriously how could I not?! It has been amazing watching the garden take shape and the plants grow over the summer. We're going to plant spring bulbs which I'm excited for and the last job this year is to plant up some pots with some winter flowers for near the patio doors. I can't wait for more garden projects next year, we have some lovely garden furniture which needs a paint and of course we need lots more pots and plants!